Gainesville Bathroom Cabinets from Gainesville Restoration and Remodeling. When it comes to interior design and home organization, bathrooms are often overlooked. However, the bathroom is a space that can greatly benefit from functional and stylish solutions. One such solution that seamlessly blends utility and aesthetics is the bathroom cabinet. Bathroom cabinets not only provide essential storage but also contribute to the overall ambiance of the space. In this blog post, we'll explore the importance of bathroom cabinets and offer insights into how you can choose the perfect cabinets for your space.
Maximizing Space – Bathrooms, regardless of their size, often face a common challenge: limited space. This is where bathroom cabinets come to the rescue. Cabinets provide a strategic way to make the most of the available space, allowing you to store toiletries, towels, cleaning supplies, and more, while keeping the area clutter-free. Wall-mounted cabinets, under-sink cabinets, and over-the-toilet cabinets are popular options for optimizing vertical space.
Style and Aesthetics – Bathroom cabinets are more than just storage units; they're also integral to the design and style of your bathroom. The choice of materials, colors, and finishes can significantly impact the overall aesthetics of the space. For a modern and minimalist look, sleek and glossy cabinets in neutral tones might be the way to go. On the other hand, if you're aiming for a rustic or traditional feel, wooden cabinets with intricate detailing could be a perfect fit.
Tailored Functionality – Every bathroom has unique storage needs. Some people require ample room for makeup and beauty products, while others might need extra space for linens and towels. This is where the versatility of bathroom cabinets shines. You can choose cabinets with adjustable shelves, pull-out drawers, and built-in organizers to accommodate your specific requirements. Customizable cabinets ensure that your storage solution aligns perfectly with your lifestyle.
Creating a Focal Point – In addition to their practicality, bathroom cabinets can also serve as focal points within the space. Freestanding cabinets with ornate designs or vibrant colors can draw the eye and add a touch of personality to an otherwise understated bathroom. Consider using cabinets as a canvas for self-expression, integrating them harmoniously with the rest of the décor.
Clever Mirror Integration – Ever heard of a medicine cabinet? This ingenious invention combines a mirror with storage, saving you space and allowing for convenient access to everyday essentials. Medicine cabinets can be recessed into the wall or surface-mounted, making them an excellent choice for smaller bathrooms where every inch counts.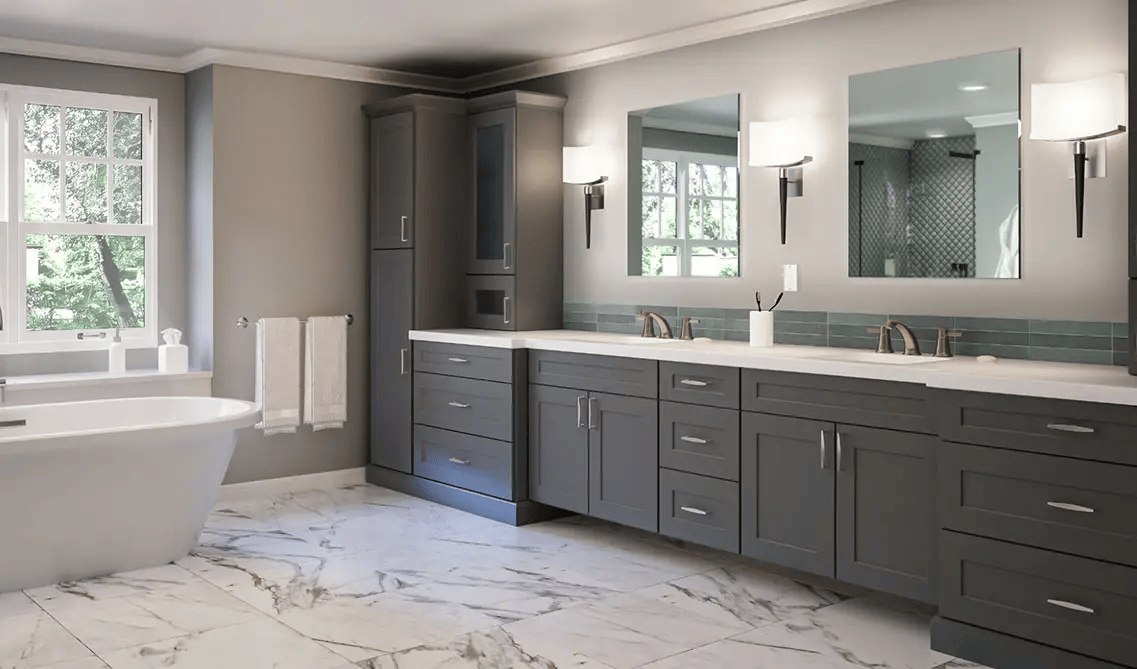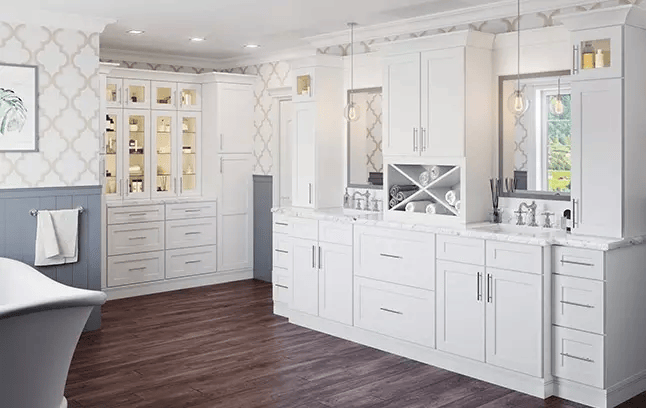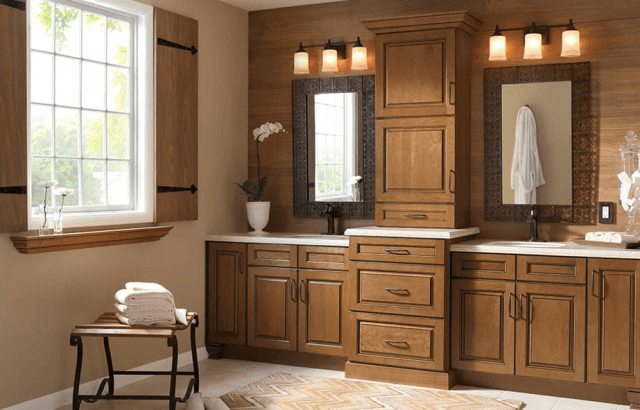 Gainesville Bathroom Cabinets
352-554-0646
Bathroom cabinets are more than just storage solutions; they're key players in the realm of interior design and organization. Their ability to maximize space, enhance aesthetics, and cater to your specific needs makes them an essential component of any bathroom makeover. So, whether you're revamping your entire bathroom or simply looking to declutter and refresh the space, don't underestimate the impact of well-chosen bathroom cabinets. Your bathroom will thank you for the functional and stylish upgrade!
Have you been thinking that your bathroom could use a new look? Maybe new cabinets or countertops? If so, we got you covered! We design, sell, and install the most beautiful bathroom cabinets in Gainesville, at prices that will make you smile. Also, our experienced staff can help you with the design of your bathroom while keeping you on time and on budget. Our Gainesville cabinet specialists have decades of industry experience.
Our customer satisfaction comes from exceeding our customer's expectations. Because we are Gainesville's bathroom remodeling specialists. Gainesville Restoration and Remodeling is committed to helping you create an affordable and beautiful new bathroom. Our knowledge of remodeling, design, and construction contributes to; flawless measurements, artful design, perfect installation, leaving you with gorgeous results.
The bathroom is the most used room in the house. Cabinets can take a beating over time from humidity and water exposure as well as dents and scratches. Frequent opening and closing can also cause wear and tear. New bathroom cabinetry will add beauty, style, and functionality to any bathroom. They can also be customized with a wide assortment of finish colors, styles, and hardware.
Bathroom cabinets and vanities can often be a part of the bathroom that many people overlook, but having enough storage for everything you need in your bathroom is absolutely essential. Bathroom cabinets are a good investment for any new home or bathroom remodel. But that doesn't mean you need to spend a lot of money to get the bathroom cabinets of your dreams.
So, let Gainesville Restoration and Remodeling design and build the bathroom of your dreams.  You can also send us an email with any questions or concerns.
352-554-0646
Gainesville Bathroom Cabinets