(352) 622-5277
Ocala Restoration Remodeling Construction is your source for; Restoration, Remodeling, Construction, and Emergency Services in Marion County and Surrounding Counties. Furthermore, like our sister company, Gainesville Restoration and Remodeling in Gainesville Florida; Ocala Restoration and Remodeling wants to be your contractor of choice for all of your restoration, remodel, and construction needs. Because we have an architect on staff, we can provide complete construction services in house. In addition, we take extreme pride in our work and demand attention to detail from our team. Therefore, we know that word of mouth is our best form of advertisement; and understand that the job is not complete; until the customer is happy. Therefore, 100% customer satisfaction is our goal; to this end, we strive to exceed even your highest expectations in quality, value, and service.  

Ocala Restoration Remodeling Construction
Remodeling – To begin with, we are a full-service remodeling contractor, from remodeling and room additions to new construction. If you need to remodel an existing room, such as a guest room, kitchen, and bathroom; or add a new addition such as a Florida room or bedroom over a garage; Ocala Restoration and Remodeling can handle the project from start to finish.
Kitchen Remodels – From small renovations to complete kitchen makeovers. New cabinets from Thermofoil to Solid Wood. Counter tops in Formica or solid surfaces including Granite, Quartz, Corian, Silestone, and more. Kitchen flooring in tile, stone, wood, and laminates. Custom lighting and electrical wiring. Also, we can even help with the selection of your new appliances.
Bathroom Remodels – From replacing old fixtures to complete bathroom makeovers we can do it all! Custom vanities in a wide selection of surfaces including Formica, Granite, Quartz, Corian, Silestone, and more. Custom fixtures and lighting, hardware, flooring, mirrors, accessories and more.
Room Additions – Need more space? We can remodel that old living space or custom build a new one. Room additions, garages, Florida Rooms, attics, porches, screened rooms, and more; made from high-quality aluminum, block, or framed construction.
Ocala Restoration Remodeling Construction
Custom Flooring – Choose from Tile, Solid Wood flooring (Prefinished or Unfinished), laminates, linoleum, carpet and other flooring options.
Roofing/Re-Roofing – Full line of 3 tab and architectural shingles. We provide a 5 to 25-year guarantee on our labor and an extended warranty plan through GAF; the leading manufacturer of shingles for up to 50 years on all roofing components. In addition, we offer roof inspections and cleaning.
Leak Detection – Water Leaks in the slab or other areas of the home can not only be costly; they can create mold, as well as decrease the value of your home. In addition, checking your home for leaks annually can give you peace of mind; as well as, give you a chance to fix problems before they become serious.
Restoration and Emergency Services – Ocala Restoration and Remodeling provides complete Water, Fire, and Mold restoration and remediation services. In addition, we provide storm damage cleanup, biohazard cleanup, and sinkhole repair services.
Other Services – In addition, some of our other services include; handicap accessible ramps, handicap shower conversions, and bathrooms, home inspections, and more.
Ocala Restoration and Remodeling has provided; restoration, remodeling, and emergency services to the residents of North Central Florida for well over a decade. Because you can count on us to be there for you in your time of need. Call Ocala Restoration Remodeling to schedule an appointment today.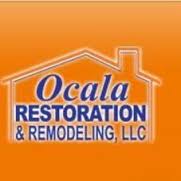 (352) 622-5277
3426 SW 6th St, Ocala, FL 34474
Ocala Restoration Remodeling Construction
CRC 1327956 – State Certified Building Contractor
CCC 1326022 – State Certified Roofing Contractor
MRSR – 96 – State Certified Mold Remediator