Gainesville Florida Sinkhole Damage Repair
Gainesville
352-372-7784
"We handle your sinkhole damage – below ground – and above!"
Gainesville Florida Sinkhole Damage Repair. Gainesville Restoration and Remodeling below ground foundation problems. If you believe your home has foundation problems due to sinkhole activity; we encourage you to call us even before you call your insurance company. Because we will perform an expert evaluation of the suspected area at no cost to you. In fact, if your home is showing signs of foundation destabilization; you may have a sinkhole problem below your home's foundation.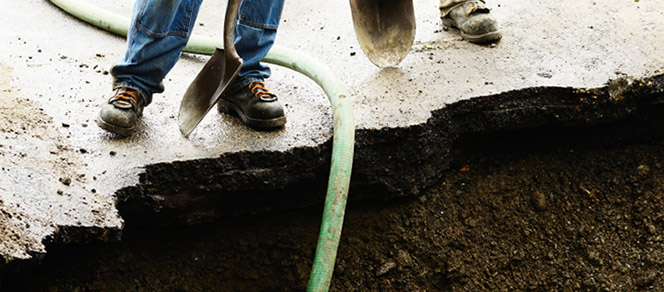 so, if you have noticed cracks in the blocks, brick, sheetrock or other structural materials; these could be signs of a problem. In addition, if your chimney is pulling away from the house or your windows and doors are beginning to stick; there may be a much bigger problem developing. Call Gainesville Restoration and Remodeling first and receive a free estimate.
Gainesville Florida Sinkhole Damage Repair
Above Ground – Everything Else
Gainesville Restoration or Ocala Restoration will handle any type of damage above the foundation caused by a sinkhole; inside and out. Furthermore, we assign each project to a hand-picked team of highly-skilled, educated and certified specialists; who have the insight, experience, and ability to meet or exceed your expectations. From estimation to completion, our team is ready to handle all your restoration needs in; Gainesville, Ocala, Lake City, Palatka and more. So, if you think you may have a sinkhole problem, give us a call today, or contact us here.
Our service area includes Gainesville, Ocala, and the surrounding towns of; Archer, Newberry, Alachua, Old Town, Starke, Keystone Heights, Hawthorne, Williston, Lake City, Micanopy, Palatka and Silver Springs, Belleview, Dunnellon, Summerfield; as well as The Villages, Eustis, Leesburg, Anthony, and Citra.
So, be sure to call us today if you have seen any of the warning signs associated with sinkholes. Because the longer you wait, the larger the damage and repair costs will be.
Gainesville Florida Sinkhole Damage Repair
Gainesville
352-372-7784
CGC 1527839 – State Certified General Contractor
CCC 1332071 – State Certified Roofing Contractor
MRSR – 96 – State Certified Mold Remediator